Course details
5,000 yen craft beer 8 kinds of all-you-can-drink plan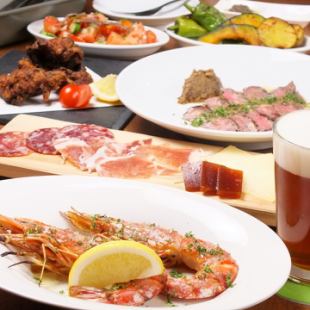 5000 Yen
Price includes tax
Reservation deadline

Up to 18 o'clock yesterday on the day before the desired store visit
Course menu
■ | Assortment of raw ham
■ | Chef's whimsical salad
■ | Assortment of mochito chicken and potato
■ | Assortment of grilled vegetables of the day
■ | Charcoal grilled fruit shrimp and today's vegetables
Charcoal grilling of beef sagari meat
All 6 dishes + craft beer all you can drink!
All you can drink 8 kinds carefully selected from the barreled craft beer on that day!
In addition, we offer a wide range of sake, wine, sour, soft drink, cocktail and so on.
※ Reservations will be received from 2 people until the previous day
Course menu
Course menu
■ | Assortment of raw ham
■ | Chef's whimsical salad
■ | Assortment of mochito chicken and potato
■ | Assortment of grilled vegetables of the day
■ | Charcoal grilled fruit shrimp and today's vegetables
Charcoal grilling of beef sagari meat
All-you-can-drink barrel craft beer of 8 on the day!
Craft beer from overseas will also be introduced, mainly in Japanese craft beer.
※ For reservations from 2 people up to 70 people
(Seating 40 people)
※ Please make a reservation by the day before.
All you can drink
A beer example
· Minoh beer
· Shigakogen Beer
· Kyoto brewing
· Minami Shinshu Beer
· Fuji cherry Takahara beer
· Y Market Blueing
· Baird Brewing
· Oyama G beer
· Tamba Sasayama ZigZag Brewery
※ Since beer changes every day due to barrel change, it may not be available on the same day drinks menu.
Please acknowledge it beforehand.
· Wine red, white
· Shochu high variety
·Highball
·whisky
·Cocktail
·Soft drink
· Beer cocktail etc ...
* Last order from the start in 90 minutes
※ When using crowded Please use the seat in 2 hours.
※ Reservations will be accepted up to the day before, from 2 to 40 people.
(It is possible to have up to 70 people by half standing.)
2018/11/29 update