DETAIL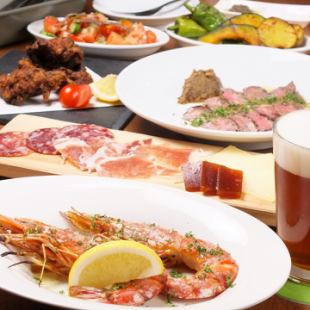 6000 yen All kinds of craft beer All-you-can-drink plan
6000 yen
Price includes tax
Course menu
■ | Assortment of raw ham
■ | Chef's Whimsical Salad
■ | Assortment of mochikotikin and potato
■ | Assorted grilled vegetables of the day
Charcoal grilling of today's fresh fish
■ | Today's main charcoal grill fire

All-you-can-drink craft beer on the day!
There are more than 15 types of beer craft beer in Japan and overseas.
In addition, sake, wine, cocktail etc are prepared.
Menu
Assortment of raw ham and cheese

■ Chef's whimsical salad

■ Assortment of mochikotikin and potatoes

Assortment of grilled vegetables of the day

■ Charcoal grilling of today's fresh fish

■ Today's main charcoal grill fire

All-you-can-drink all-you-can-eat craft beer of the day!
Craft beer from overseas will also appear, especially around Japanese craft beer.
※ For reservations from 4 people up to 70 people
(Seating 40 people)
※ Please make a reservation by the day before.

All-you-can-drink contents
A beer example
· Minoh beer
· Shigakogen Beer
· Kyoto brewing
· Minami Shinshu Beer
· Fuji cherry Takahara beer
· Y Market Blueing
· Baird Brewing
· Oyama G beer
· Tamba Shinoyama ZigZag Brewery
* Since beer changes every day with barrel change, it may not be available on the same day drinks menu.
Please note.
· Wine red, white
· Sake High various
·Highball
·Whisky
·Cocktail
·Soft drink
· Beer cocktail etc ...

* Last order 90 minutes from the start
※ When using crowded Please use the seat in 2 hours.
※ Reservations will be accepted up to the day before, from 2 to 40 people.
(It is possible to have up to 70 people by half standing.)